Please visit and sign the Stephen Guisinger Guest Book before you leave.
In Memory of Stephen Guisinger
January 14, 1941 - July 3, 2001
Steve Guisinger, long-time member of the Academy of International Business and professor of international Management at the University of Texas at Dallas, passed away on July 3, 2001.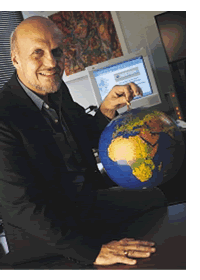 His energetic support of the AIB and his presence at the annual meetings will be dearly missed by all. Steve was a friend, colleague and an inspiration to all who knew him. Steve died unexpectedly of a heart attack while undergoing surgery for stomach cancer. He was 60 years old. He leaves behind three daughters, Victoria Guisinger, Amari Guisinger, and Alexandra Guisinger, as well as one grandchild, and Sheila Barnes, his partner of many years. Those close to him will remember him for his fine sense of humor and kind heart.
"Steve was an energetic and upbeat person who was always a pleasure to be around," said AIB president Stephen J. Kobrin in a recent message to the AIB-L listserv. "While he was a very dedicated and serious scholar, he had a wonderful sense of humor. He loved jokes and was the only one I knew who kept them in a data base on his palm pilot."
Steve's students will remember him as someone who was always willing, and oftentimes went out of the way, to mentor them. He took personal pride in their accomplishments and successes.
He earned a bachelor's degree in economics from Yale University in 1963. He received a master's degree in public administration from Harvard University in 1965. In 1970 he earned a doctorate in economics, also from Harvard. He taught at Southern Methodist University from 1970-1976. Since 1976, he has been with UTD's school of management. He was a past president of the Dallas Economists Club, a founding member of the Dallas Committee on Foreign Relations, and an elected member of the Council of Foreign Relations.
Steve traveled extensively, visiting more than 40 countries as a consultant to the World Bank, the International Finance Corp., the Organization for European Cooperation and Development and the Harvard Institute for International Development. He lived in Pakistan for two years on a Ford Foundation Project.
In his memory, his family has asked the University of Texas at Dallas to set up a scholarship fund for international students. "He was so proud and supportive of all his students, but particularly those from abroad," his daughter Alexandra said. "We thought it would be nice if we could continue his support in at least some form." Contributions to his memorial fund can be addressed to:
Stephen Guisinger Memorial
Scholarship Fund for International Students
UTD Development Office
P.O. Box 830688, MP13, Richardson, TX 75083-0688

The above memoriam is reprinted from the Academy of International Business Newsletter (ISSN: 1520-6262) Volume 7 Number 3, Third Quarter 2001.
* * *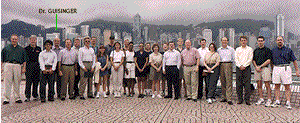 'Our' MIMS Study Trip to Hong Kong with Dr. Guisinger in 1998 - FULL VIEW
Dr. Stephen Guisinger was recognized as an educational leader in the evolving field of 'Distance Learning' at the post graduate level and he was very proud of the MIMS (Masters in International Management Studies) program he developed at UTD.
Please visit and sign the Stephen Guisinger Guest Book before you leave.