Click on a country for Business Etiquette


South Africa
Argentina
Australia
Brazil
Canada
Chile
China
Colombia
Costa Rica
Ecuador
Egypt
El Salvador
France
Germany
Guatemala
Hong Kong
India
Indonesia
Italy
Japan
Mexico
New Zealand
Panama
Russia
Saudi Arabia
Spain
Taiwan
United Arab Emirates
United Kingdom
United States
Venezuela
--------------
The International Business Center recognizes the international scope of Dr. Stephen Guisinger and his work, Professor at the School of Business, University of Texas at Dallas, and who left us much too soon.
| | |
| --- | --- |
| | |

Welcome to the
International Business Center

I want to extend a personal welcome to you. The International Business Center is a not-for-profit organization that has invested hundreds of hours creating a series of dynamic and valuable resources for international business people, international business students, and teachers and professors at international business schools throughout the World.
International business, Multinational, Transnational, Globalization, Multi domestic, Worldwide, and the Global Marketplace, these are terms you deal with daily.
We know international business success requires more business acumen than managing a domestic enterprise. You not only deal with traditional business functions and values, but also must understand and work from a global perspective that adds politics, culture, monetary variables, time, and distance to the international business management equation.
I believe you'll find the International Business Center is an excellent resource for a variety of your global business questions and needs, with particular focus on those topics unique to working in the International business arena, including intercultural issues.
Sincerely,
Stephen Taylor, Executive Director
the International Business Center

Stephen Taylor is Senior Partner of the Sigma Two Group LLC and Executive Director of the International Business Center, and he holds a Master of Arts degree in International Management Studies - Global Leadership from the University of Texas at Dallas School of Management. Stephen has held executive management positions in international business development, sales, marketing, and human resources at leading global companies, including Henkel, 3M Company, and Unilever. He has worked and traveled extensively throughout the world, and is currently based in Las Vegas. Curriculum Vitae

What is a Country's
'Corruption Perception Index' ?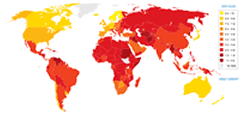 The International Corruption Perceptions Index (CPI) from Transparency International has been released. The report charts the perceived level of corruption in each of 176 countries.
By utilizing a process of surveying perceptions by business people, academics and risk analysts, of the degree of corruption within a country, the numeric indexes will range between 10 (highly clean) and 0 (highly corrupt).
So what are the results for this year? At the top of the list was Denmark, Finland, and Sweden with a CPI Index score of 90, followed by Sweden with 88 and Singapore at 87.
At the other end of the scale, and considered the most corrupt nations on earth is Somalia, North Kores, and Afganistan at 8 with Sudan at 13 and Myanmar at 15, followed by Turkmenistan and Uzbekistan at 17.
The report makes for good reading, and an excellent topic for discussion among international business managers, always concerned about risk, and the best way to hedge against potential losses.
Also of note is that the first Corruption Perception Index in 1995 had the United States at 7.8 (78 under new 0-100 scale). Now, 17 years later in 2012, the perceived corruption in the US has increased by 6.4% to a current CPI of 73.
Before your next visit and negotiation session in any country, perhaps it may be advantageous to look up the Corruption Perception Index?
To review the complete listing of the Corruption Perceptions Index, including the methodology used, go to one of these locations:
You can view the CPI Table at this LINK
You can download the full eight CPI report in Acrobat PDF at this LINK

Culture + Etiquette
Don't Lose the Deal!
It happens somewhere in the world everyday. Negotiations have been accelerating and both sides seem to be nearing a fruitful culmination. The end is in sight when suddenly it begins to unravel. Perhaps impatience to 'close' was the trigger, or frustration that one side seemed to be 'back pedaling'. Whatever the reason, the deal has fallen apart and someone will be on the phone to explain this to the Executive VP of Global Marketing.
Perhaps one of the most difficult aspects of international business is dealing with, and understanding, differences in culture. Visit the International Business Etiquette and Manners Website to learn details about cultures from over 35 Countries. The Site also has an explanation of Geert Hofstede's world famous studies and analysis of cultural differences.
The Hofstede analysis graphs are presented for each of the Countries, giving the global business person better insights to diversity.



Red Alert:
International Business Travelers
As an international business person, we urge you to use extra caution and common sense when it comes to travel and visibility while on business or pleasure. This link leads to travel related topics and current travel warnings



We want to thank Kimberley Roberts Taylor for her frequent contributions to our international Websites:
International Business Careers

Geert Hofstede Resources

International Business Etiquette

DISCLAIMER: This Website contains hyperlinks to other Websites for the convenience, education, knowledge, news, and information of our visitors. However, we are not responsible or liable for the content, materials, words, images, information, or data on those Websites.



. . .
The MBA Outlook -
Articles and reports you'll want to read about moving up in the business world.



Need to Convert?

Metric -> Standard Standard -> Metric
Global business people often have the need to convert various measurements while on the road, or in the office.
We've found perhaps the best conversion program in the World. You simply load it on your computer and it's always ready to go. It has 21 categories, and best of all, it's FREE.
How good is it? Good enough to use at NASA and by the astronauts on the International Space Station.
You can download the 156k Zipped program by clicking HERE.
Written by Josh Madison, you can find out more at Josh's Website.